MOV to WMV Converter
Se hai una foto/videocamera digitale che registra video in formato mov, se vuoi successivamente modificare questi video con Windows Movie Maker, hai bisogno di un MOV to WMV Converter che ti consenta di convertire MOV in WMV per poi poter modificare il video come vuoi e visualizzarlo su qualsiasi player.
In questo articolo vediamo come usare WinAVI All In One Converter, per convertire video QuickTime MOV in WMV in modo semplice e veloce.
Passo1: Scarica WinAVI All-In-One Converter poi installalo e avvialo.
Passo2: Clicca sul bottone "Aggiungi files "e carica il video MOV dal tuo computer oppure trascina il video direttamente nella schermata del programma. Poi si apre una finestra in cui devi selezionare il formato di conversione, nel nostro caso "WMV File".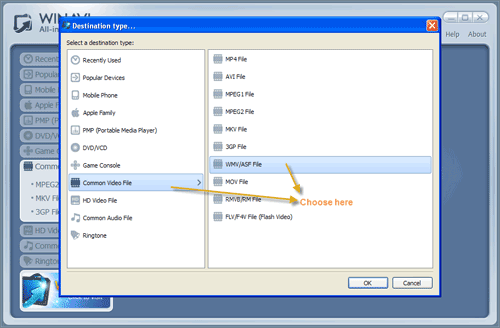 Passo3: Clicca su "Avanzate" per modificare i parametri del video WMV di uscita.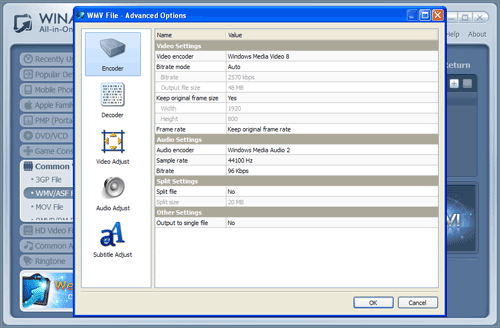 Passo4:
Clicca su "Avvia" per iniziare a convertire MOV in WMV.
Attenzione:
La versione demo presenta un logo sul video convertito. Per rimuoverlo è necessario acquistare la licenza del programma in versione completa.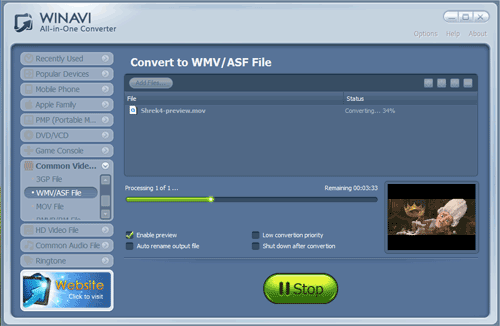 Alla fine della conversione clicca su "apri directory di uscita" per trovare il video WMV.
Articoli correlati :
Domande correlate :